Until May 7, Shahin Najafi, 31, was just a semi-famous Iranian singer in Germany whose angry rap songs were popular amongst Iranian youth. But the release of his latest song, "Naqi," the name of Shiites' 10th Imam, turned his life upside-down when hardliners in Tehran called for his murder, following a fatwa issued by a grand Ayatollah who accused him of apostasy. For many, it seems he has joined the Salman Rushdie club.
For a story I wrote for the Daily Beast last week, I interviewed Najafi, who currently lives in hiding under the protection of German police. I asked him about the song, his life since receiving death threats, the apostasy fatwa, Salman Rushdie, religion, Iranian society, and whether he might apologize for the severe backlash he is facing. Below is the full interview with him.
Your last song has unleashed a huge reaction: some have interpreted it as mocking Islam. Why did you name a Shiite Imam, and how different is that interpretation from what you intended?
This is 100% misinterpretation. Just as I believe religious views must not question and pressure non-religious views, as a non-religious individual, I am not allowed to insult those who hold religious views. But we must define what constitutes an "insult." What I did in the lyrics of my song "Naqi" should not be called an insult. We used the name of one of the Imams in order to express the cultural, social, and political problems inside Iran.
How has using this name helped to describe these problems?
This was just an excuse–it is a theme through which I can say other things. The Imam's name has secondary importance. The main point is what the poem contains.
Why did you choose Imam Naqi from among the twelve Shiite Imams?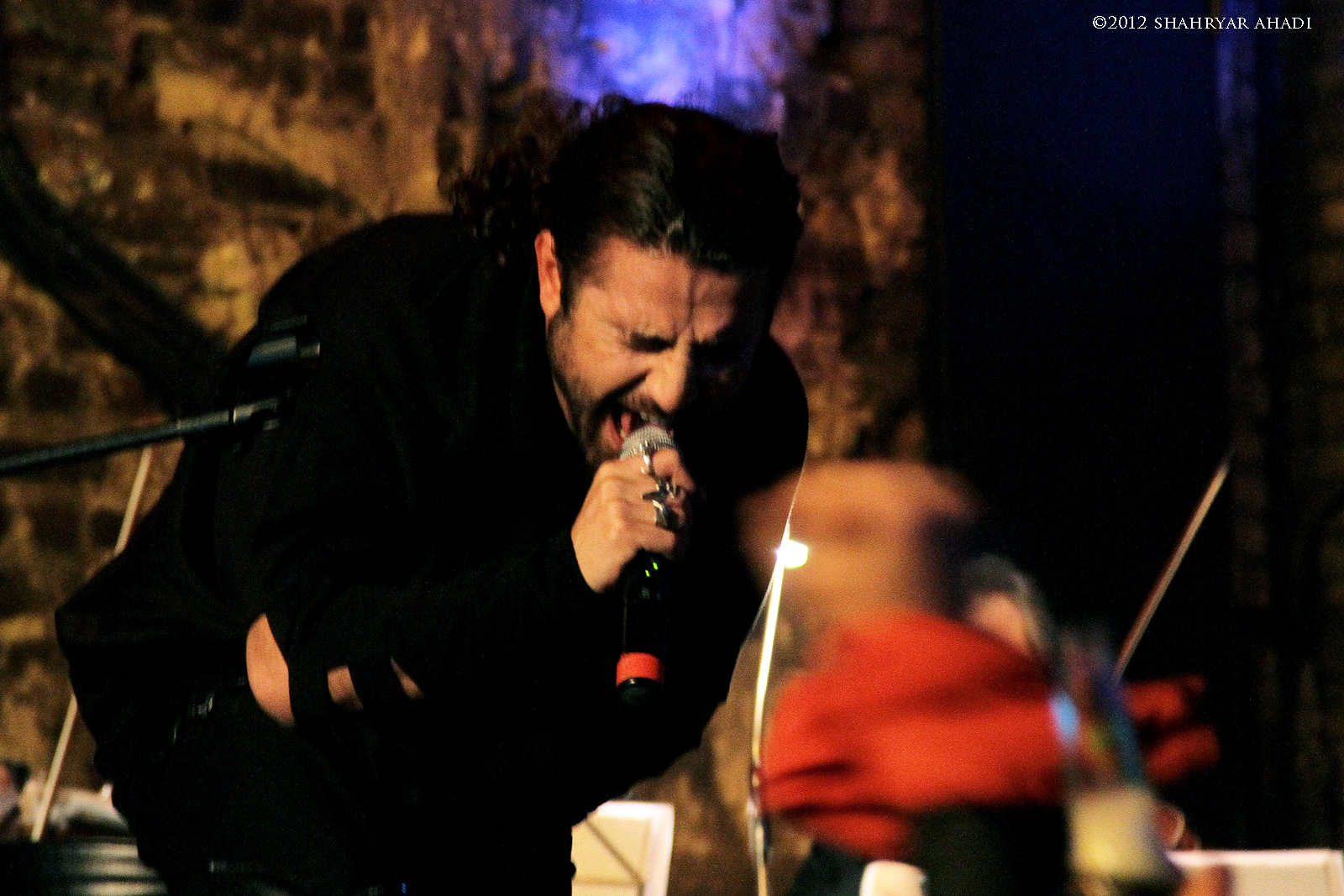 This also has to do with what is happening inside Iran. Some Iranians started a Facebook page in which they refer to Imam Naqi as the Imam Shiites forgot about, using satire.
When you wrote this poem, did anyone warn you that such content could cause offense?
In whatever I have ever done, there could have been this possibility. But I never thought or think about the consequences. About this particular piece, I never thought things would get to this point and that the issue would get into international media. I didn't think it and I didn't want things to reach a point where some people would be upset, and for some who have direct ties with the ruling system in Iran to abuse these upset feelings. They are the ones that derailed public opinion and are somehow abusing people's religious feelings. Any fair individual could see that I have no reason to insult. My goal is something else. Why would I pick on someone who lived several centuries ago? This is just an excuse, a pretext for me to talk about what is happening in Iran today. My question to those who insult and swear and issue fatwas against me is: why didn't they make a peep when our youth were being raped inside Iranian prisons?
A Grand Ayatolla issued a fatwa several weeks ago against those who insult Shiite Imams. Some Iranian news agencies have reported that the fatwa is against you. How has this news affected your daily life?
My daily life and work have been derailed. Naturally, I continue my own way, but this didn't make me happy. It was surprising to me. I realized that some inside Iran are trying to run a campaign that has nothing to do with me and they wanted to find justification for what they had in mind. They created a campaign for my execution. The latest news is that Shia Online website has announced a $100,000 prize for my head! It is surprising why they would want to divert the public opinion like this and to introduce me as someone who wishes to fight with the religion. I have nothing against people's beliefs. I do my own artistic work.
Has the German government taken steps to ensure your security?
The German government has taken routine steps, but I'm not at liberty to discuss them. But experience has shown that these steps are not sufficient.
Do you have bodyguards right now?
I am living in a secret place now. I don't have any bodyguards.
If you wanted to send a message to religious rulers, what would you say?
I would say that they won't be able to divert public opinion by creating waves. Under the skin of the Iranian society things happen that are extremely horrific. Iran's daily talk is about the epidemic drug addiction, prostitution, child abuse, and divorce. My advice to those who heavily rely on religious points is that they will eventually reach a point and see the day in Iran when everyone will approach religion on a personal level and they will no longer be able to rule the people. I have a problem with political religion. It is none of my business who worships what and respects which religious authority. This is a personal issue for individuals. In the same vein, it is none of their business whether I do or don't worship anyone or anything. As a citizen, I believe that no one type of ideology can rule over the likes of me. I will scream and say these things to the best of my ability. I consider it my duty to fight superstition. When they invent electronic shrines or mobile shrines, of course I will use it in my satire. Of course I will laugh at it!
Have you found people who embrace your work?
Certainly! And I would like to thank my fans and those who have been by my side during the past few days and on the Internet. I have friends who have compromised their own lives and have received verbal abuse and insults for me. They know that time will show everything.
Do you think that a critical approach to religion is something exclusive to you and your work, or is this a trend among Iranian youth?
This subject exists on multiple levels in Iranian society. I have the possibility to do my part through my voice and my guitar. Someone may write on his/her Facebook page. Someone may write a poem. I believe there is a flow that becomes bolder in some areas. We face a rebellious crowd that is pouring out its rebellion in different forms.
Will you apologize for this song?
I am usually a stranger to apologies. At least in my artistic work, I have tried to make few mistakes. I do things with people by my side and behind me and I take responsibility for it. I am not alone. It is stupid to do something and then to take it back. I must have thought about a part of what has happened. I have always prepared myself for any type of consequence. I have solved this issue with myself. I am not one to apologize. I will stand by my position.
Ayatolla Khomeini once issued a fatwa of apostasy and set a bounty on the head of Salman Rushdie, a British author of Pakistani descent. Have you thought about that over the past few days?
Even if we assume that such a fatwa is issued for me as they say, my situation is still not an exact match. But I got into this story unwittingly, and now I await something to happen at any moment.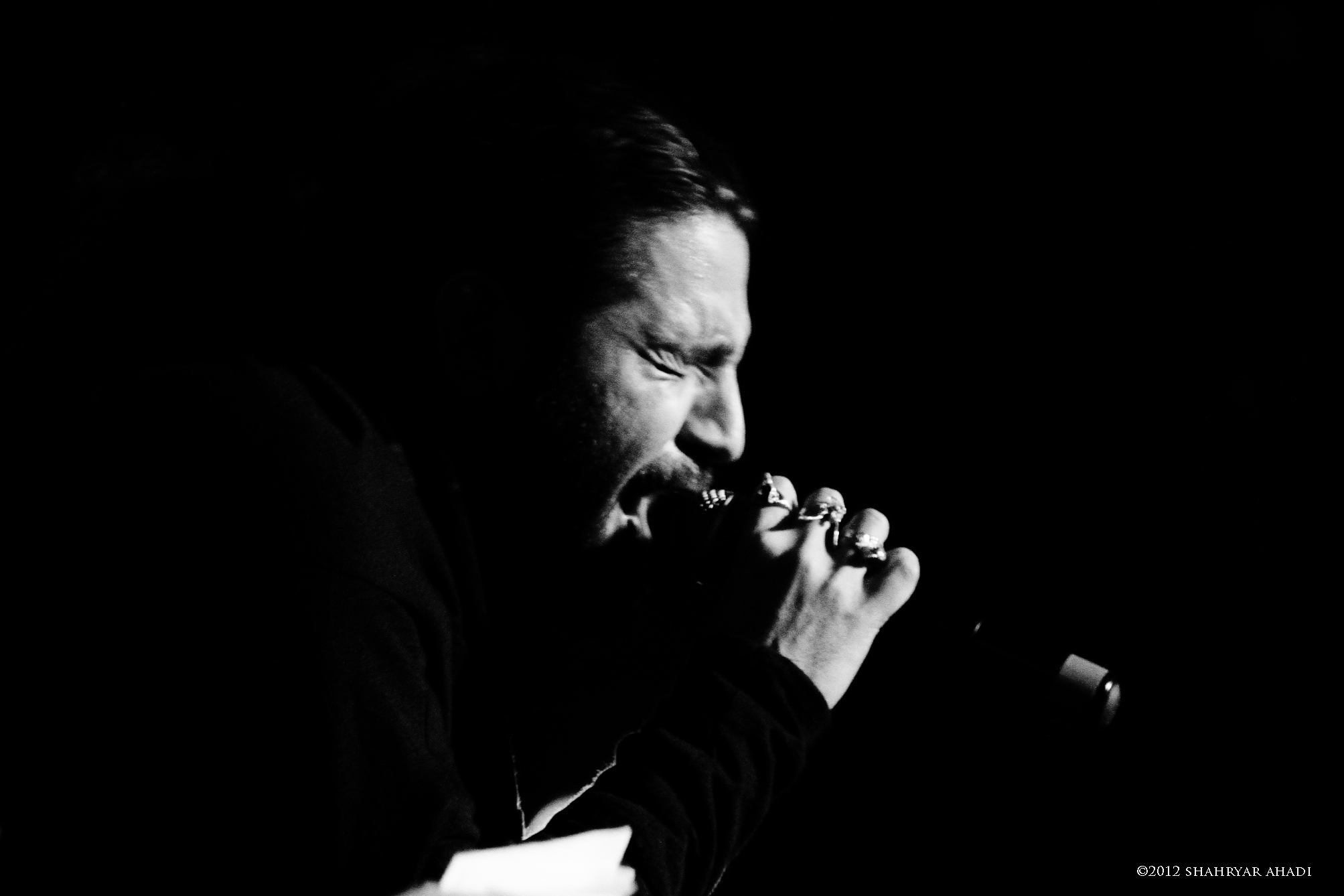 Do you take the threats seriously?
100%! At first I thought it was a joke. But it got more and more serious by the moment. I was threatened in any way they could reach me. They were so wounded that I am sure they would strike at me wherever they can. They were looking for an excuse; this is why they went after a fatwa. The fatwa by Ayatollah Safe Golpayegani states that whoever insults and disrespects the Imams is an apostate, and an apostate in Islam must be executed. This fatwa may be authentic, but I don't know and I am doubtful whether it is about me or not. This is why they used this incident as an excuse and they attributed this fatwa to me, so that it could justify something that they may carry out at any given moment. I mean, if something should happen to me, they will say simply that it was carried out according to the fatwa. I mean they will justify it according to Sharia.
Would the Islamic Republic send people outside the country to go after you
That won't be necessary at all. They have supporters among other nations who could pay me a visit. They can easily hire people and later deny that they have done it. Their object is to create fear, intimidation, and terror among people and for me, so that I don't continue with my work and people become fearful that they could be persecuted for listening to my music. Rest assured that if they can do anything against me, they would not hold back. Through information we have, I know that they are very angry with me, because I use the language of people on the streets and in the markets. I know about our society and I pour our society into my poetry. I know exactly what I am doing. And this is why they do what they do. They will not miss a chance to tarnish my character or to eliminate me physically.
If you were to re-do this piece of music, would you make any changes in it?
I think I would complete it, adding the new things that have happened.
One thing that all Shiites could ask would be, why does everyone only pray to Imam Ali? Why doesn't anyone go after Imam Hassan? Why do they only look for Imam Hossein? Imam Naqi was an important Imam. If you ask ten Shia Muslims about Imam Naqi, eight of them cannot be certain whether Naqi was the ninth or tenth Imam. This Imam has been abandoned. I think they should be thankful to me for reminding them of this. I did not aim for Imam Naqi himself. I wanted to say other things, which I did. I did what I wanted to do.
-To find out more about Shahin Najafi and more analysis about his song read the Daily Beast's "Iranian Rapper Shahin Najafi Faces Death Threats for Song Deemed Insult".
Huffington Post, Posted: 7/5/11- Less than a week after the United Nations Human Rights Council appointed former Maldivian Foreign Minister Ahmed Shaheed as Special Rapporteur on Human Rights for Iran, Head of Iran's Judiciary, Sadegh Larijani, in a TV interview said, "accepting the Special Rapporteur on Human Rights is not our policy."
In March, the UN Human Rights Council passed a resolution establishing a monitoring mechanism for Iran and appointing a Special Rapporteur. Last month, three candidates were considered for this position. The Iranian side, knowing that a Special Rapporteur would be immediately appointed soon, sent a message to Geneva that the Rapporteur on Iran should have three qualifications: Be a man, be a Muslim, and not be from an Arab country. One of the male candidates didn't seem to cause any controversy for Tehran; Ahmed Shaheed's appointment met all of Iran's requirements. Read more
Huffington Post, Posted May 20, 2011- Many may be critical of America's human rights policies, particularly its double standards when it comes to the records of its allies in the Middle East and beyond, not to mention in Bahrain. But human rights activists and organizations have welcomed the Obama administration's presence at the Human Rights Council in Geneva since 2009. Like it or not, "without a strong U.S. counterweight, non-democratic states such as Cuba, Algeria, China and Pakistan joined forces to blunt the Council's work and bully other states."
The UN will appoint a special rapporteur for Iran in the weeks to come.
In Geneva, Eileen Chamberlain Donahoe, the U.S. representative to the Council is a superstar. She is the face of U.S. human rights in town, a master of building coalitions and cooperation with different partners to make things happen. In an interview with me in Geneva, she responded to questions about the urgency and significance of establishing a monitoring mechanism for Iran, the role of politics in U.S. human rights policy, the perception of U.S. hypocrisy towards its friends and foes, her opinion about the Iranian officials' allegations on the politicization of UN human rights mechanisms, and finally, why the U.S. is going aggressively after Iran's human rights record. Excerpts from the interview follow: Read more
SAN FRANCISCO, California, Sep 28, 2010 (IPS) — A week after Iranian President Mahmoud Ahmadinejad told heads of state gathered for the U.N. General Assembly in New York that his government does not jail its citizens for expressing their opinions, Iran's Revolutionary Court sentenced Hossein Derakhshan, an internationally known Iranian-Canadian blogger, to 19 and a half years in prison.
On Monday, the conservative website Mashreq announced the verdict issued by Branch 15 of the Revolutionary Courts.
Arrested in October 2008, Derakhshan had been charged with "cooperation with hostile states" and "propagating against the regime," among other counts, the site said. In addition to the lengthy prison term, he was fined and banned from membership in political parties and work in the media for a period of five years. Read more
OpenDemocracy.org-Iran has experienced of one of the most exciting presidential elections since the Islamic revolution of 1979. All of the four candidates who appear on the ballot-paper in the first round of voting on 12 June 2009 may be handpicked by Iran's Guardian Council, and each can be considered either a father or a child of the revolution. But two are reformists who embrace progressive agendas, and whose popular campaigns suggest that millions of Iranians - 70% of whom are under 30 years old - believe that Iran needs reform.
For Iran's president, Mahmoud Ahmadinejad, it wasn't supposed to be like this. The leader elected in June 2005 expected an easy contest from opposition candidates who could be easily discredited for past failures or outflanked on nationalist rhetoric. Instead, he has been forced to grapple with harsh criticism of his economic policy, foreign policy and human-rights record - and is resorting to extreme denunciation of his rivals as a way of shoring up his core support. Read more
For President Obama, who already has shown his desire to talk to Iranian leaders, there is no foreign policy lesson more helpful than that of Roxana Saberi's case of arrest and release. It shows how the Iranian government functions and could teach the United States how to speak to hard-liners in Tehran. These lessons are:
1- Everything in Iran is impossible, and at the same time, anything is possible. One day you can be accused of espionage for no apparent reason, go to prison and three months later you could walk free, simple as that. On the contrary, you can go to prison under the same conditions and reason (like the case of Silva Harotonian who has been jailed since June 2008, simply, for working for an American NGO) and stay in prison for years. It all depends on many different factors. Uncertainty rules! Read more
HuffPost-The Iranian intelligence services are constantly announcing the capture and arrest of spies that gather classified information for the Western countries. Roxana Saberi, an American-Iranian journalist is the latest person to be facing such a charge.
Most people who have been accused of spying are detained without access to a lawyer or any other fair and free judicial process including a just trial. Usually they are released from prison after a few months. Surprisingly, most of these people then leave Iran within a few more months. This has made the government in Tehran the only government on the earth that catches and releases its spies.
The authorities have announced that Roxana has accepted all of the charges. No surprise! Many prisoners do accept all the charges after spending a few months in solitary confinement under huge psychological and physical pressure. To understand why, here is a joke that masterfully tells the story of how Iran's intelligence service operates: Read more
The United States will not initiate dialogue with the Iranian government, given the possible boost for President Mahmoud Ahmadinejad's re-elections next June, according to Suzanne Maloney, former State Department policy advisor and Senior Fellow at the Brookings Institution.
During his campaign Barack Obama has insisted on negotiating with Iranian leaders, regardless of its extensive political risk. But considering Iran's domestic politics, American diplomats prefer to wait and see who will be Iran's next president.
Many believe that Iran's worsening economic situation, demonstrated by its high inflation, skyrocketing unemployment and the fall of oil prices, which have prevented Ahmadinejad from fulfilling his promises to the Iranian people, might change the result of the upcoming elections. Read more
 It was a meaningful moment this morning for Iran's President Mahmoud Ahmadinejad to be present in the General Assembly Hall to listen to President W. Bush's last speech to member states. But, is this a message to the United States? It certainly is. There is no doubt in anyone's mind that the mood in Tehran and Washington has changed.
It might seem that Ahmadinejad's third appearance at the United Nations this week seemed to provide the Republican campaign with another chance to attack Obama over his previous promise that, should he become president, he will meet with U.S. adversaries, including the president of Iran, Mahmoud Ahmadinejad. But the fact of the matter is that, regardless of who goes to the White House this January, the U.S. will start negotiations with the Iranian government, whether or not Ahmadinejad is Iran's new president. Read more