Until May 7, Shahin Najafi, 31, was just a semi-famous Iranian singer in Germany whose angry rap songs were popular amongst Iranian youth. But the release of his latest song, "Naqi," the name of Shiites' 10th Imam, turned his life upside-down when hardliners in Tehran called for his murder, following a fatwa issued by a grand Ayatollah who accused him of apostasy. For many, it seems he has joined the Salman Rushdie club.
For a story I wrote for the Daily Beast last week, I interviewed Najafi, who currently lives in hiding under the protection of German police. I asked him about the song, his life since receiving death threats, the apostasy fatwa, Salman Rushdie, religion, Iranian society, and whether he might apologize for the severe backlash he is facing. Below is the full interview with him.
Your last song has unleashed a huge reaction: some have interpreted it as mocking Islam. Why did you name a Shiite Imam, and how different is that interpretation from what you intended?
This is 100% misinterpretation. Just as I believe religious views must not question and pressure non-religious views, as a non-religious individual, I am not allowed to insult those who hold religious views. But we must define what constitutes an "insult." What I did in the lyrics of my song "Naqi" should not be called an insult. We used the name of one of the Imams in order to express the cultural, social, and political problems inside Iran.
How has using this name helped to describe these problems?
This was just an excuse–it is a theme through which I can say other things. The Imam's name has secondary importance. The main point is what the poem contains.
Why did you choose Imam Naqi from among the twelve Shiite Imams?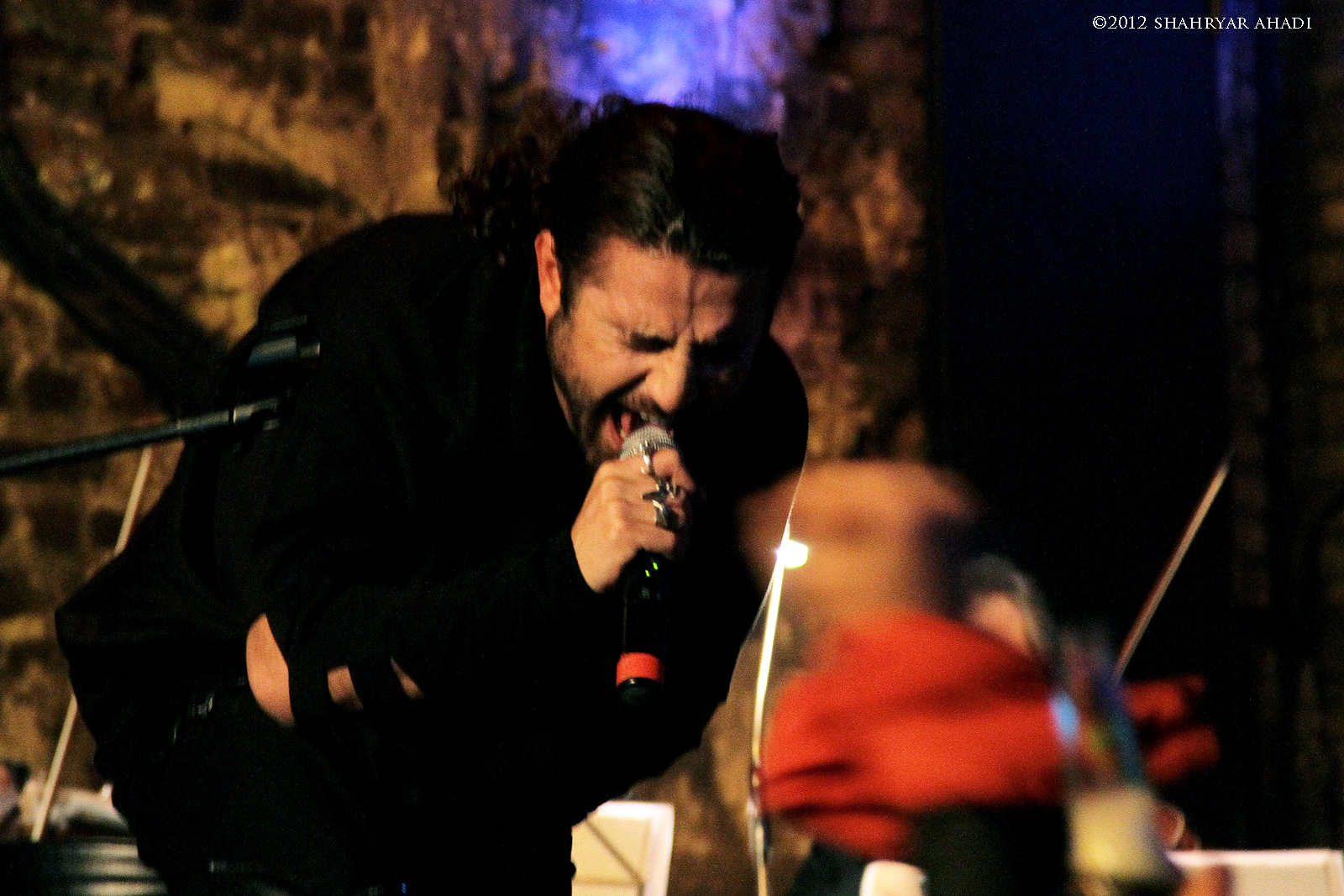 This also has to do with what is happening inside Iran. Some Iranians started a Facebook page in which they refer to Imam Naqi as the Imam Shiites forgot about, using satire.
When you wrote this poem, did anyone warn you that such content could cause offense?
In whatever I have ever done, there could have been this possibility. But I never thought or think about the consequences. About this particular piece, I never thought things would get to this point and that the issue would get into international media. I didn't think it and I didn't want things to reach a point where some people would be upset, and for some who have direct ties with the ruling system in Iran to abuse these upset feelings. They are the ones that derailed public opinion and are somehow abusing people's religious feelings. Any fair individual could see that I have no reason to insult. My goal is something else. Why would I pick on someone who lived several centuries ago? This is just an excuse, a pretext for me to talk about what is happening in Iran today. My question to those who insult and swear and issue fatwas against me is: why didn't they make a peep when our youth were being raped inside Iranian prisons?
A Grand Ayatolla issued a fatwa several weeks ago against those who insult Shiite Imams. Some Iranian news agencies have reported that the fatwa is against you. How has this news affected your daily life?
My daily life and work have been derailed. Naturally, I continue my own way, but this didn't make me happy. It was surprising to me. I realized that some inside Iran are trying to run a campaign that has nothing to do with me and they wanted to find justification for what they had in mind. They created a campaign for my execution. The latest news is that Shia Online website has announced a $100,000 prize for my head! It is surprising why they would want to divert the public opinion like this and to introduce me as someone who wishes to fight with the religion. I have nothing against people's beliefs. I do my own artistic work.
Has the German government taken steps to ensure your security?
The German government has taken routine steps, but I'm not at liberty to discuss them. But experience has shown that these steps are not sufficient.
Do you have bodyguards right now?
I am living in a secret place now. I don't have any bodyguards.
If you wanted to send a message to religious rulers, what would you say?
I would say that they won't be able to divert public opinion by creating waves. Under the skin of the Iranian society things happen that are extremely horrific. Iran's daily talk is about the epidemic drug addiction, prostitution, child abuse, and divorce. My advice to those who heavily rely on religious points is that they will eventually reach a point and see the day in Iran when everyone will approach religion on a personal level and they will no longer be able to rule the people. I have a problem with political religion. It is none of my business who worships what and respects which religious authority. This is a personal issue for individuals. In the same vein, it is none of their business whether I do or don't worship anyone or anything. As a citizen, I believe that no one type of ideology can rule over the likes of me. I will scream and say these things to the best of my ability. I consider it my duty to fight superstition. When they invent electronic shrines or mobile shrines, of course I will use it in my satire. Of course I will laugh at it!
Have you found people who embrace your work?
Certainly! And I would like to thank my fans and those who have been by my side during the past few days and on the Internet. I have friends who have compromised their own lives and have received verbal abuse and insults for me. They know that time will show everything.
Do you think that a critical approach to religion is something exclusive to you and your work, or is this a trend among Iranian youth?
This subject exists on multiple levels in Iranian society. I have the possibility to do my part through my voice and my guitar. Someone may write on his/her Facebook page. Someone may write a poem. I believe there is a flow that becomes bolder in some areas. We face a rebellious crowd that is pouring out its rebellion in different forms.
Will you apologize for this song?
I am usually a stranger to apologies. At least in my artistic work, I have tried to make few mistakes. I do things with people by my side and behind me and I take responsibility for it. I am not alone. It is stupid to do something and then to take it back. I must have thought about a part of what has happened. I have always prepared myself for any type of consequence. I have solved this issue with myself. I am not one to apologize. I will stand by my position.
Ayatolla Khomeini once issued a fatwa of apostasy and set a bounty on the head of Salman Rushdie, a British author of Pakistani descent. Have you thought about that over the past few days?
Even if we assume that such a fatwa is issued for me as they say, my situation is still not an exact match. But I got into this story unwittingly, and now I await something to happen at any moment.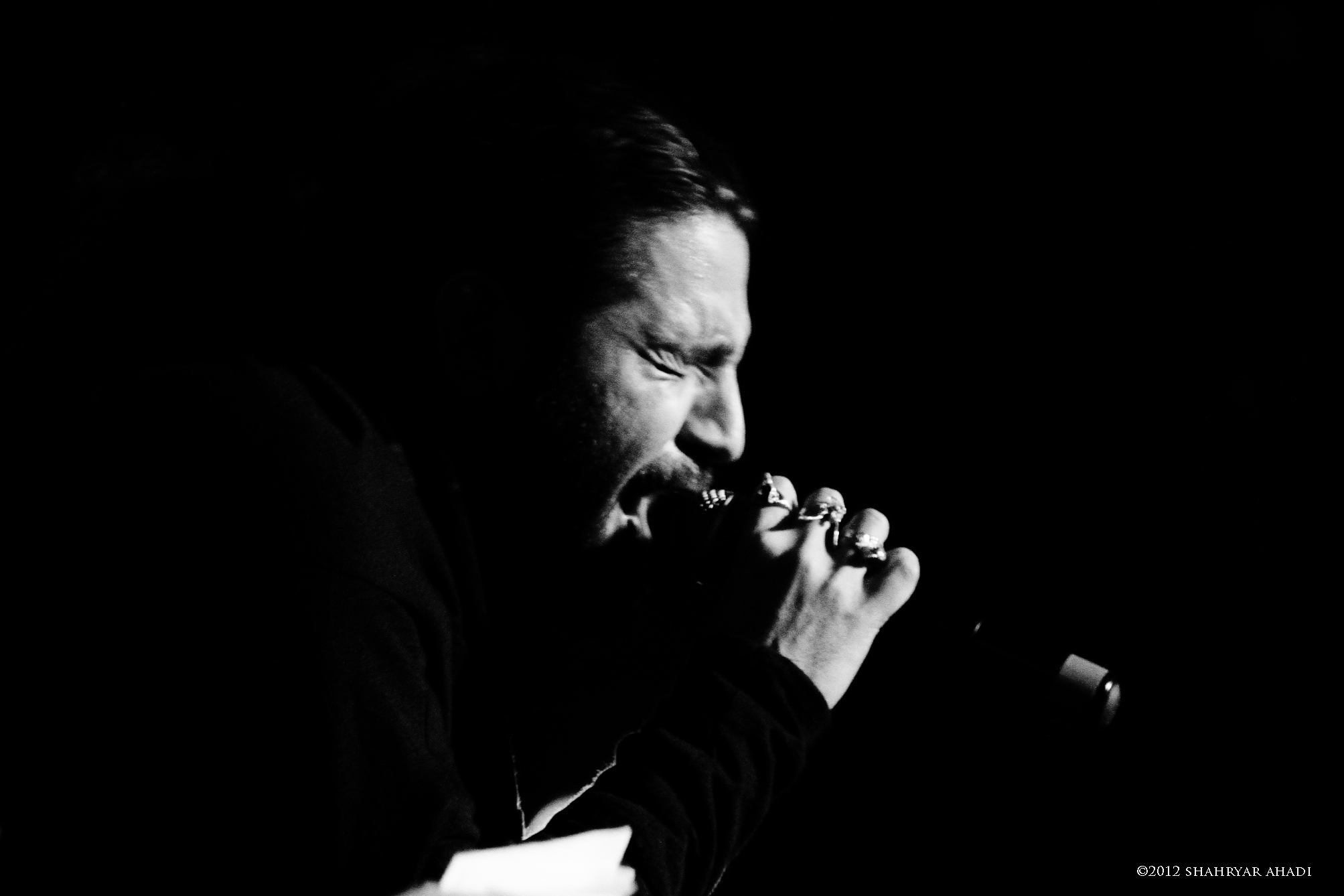 Do you take the threats seriously?
100%! At first I thought it was a joke. But it got more and more serious by the moment. I was threatened in any way they could reach me. They were so wounded that I am sure they would strike at me wherever they can. They were looking for an excuse; this is why they went after a fatwa. The fatwa by Ayatollah Safe Golpayegani states that whoever insults and disrespects the Imams is an apostate, and an apostate in Islam must be executed. This fatwa may be authentic, but I don't know and I am doubtful whether it is about me or not. This is why they used this incident as an excuse and they attributed this fatwa to me, so that it could justify something that they may carry out at any given moment. I mean, if something should happen to me, they will say simply that it was carried out according to the fatwa. I mean they will justify it according to Sharia.
Would the Islamic Republic send people outside the country to go after you
That won't be necessary at all. They have supporters among other nations who could pay me a visit. They can easily hire people and later deny that they have done it. Their object is to create fear, intimidation, and terror among people and for me, so that I don't continue with my work and people become fearful that they could be persecuted for listening to my music. Rest assured that if they can do anything against me, they would not hold back. Through information we have, I know that they are very angry with me, because I use the language of people on the streets and in the markets. I know about our society and I pour our society into my poetry. I know exactly what I am doing. And this is why they do what they do. They will not miss a chance to tarnish my character or to eliminate me physically.
If you were to re-do this piece of music, would you make any changes in it?
I think I would complete it, adding the new things that have happened.
One thing that all Shiites could ask would be, why does everyone only pray to Imam Ali? Why doesn't anyone go after Imam Hassan? Why do they only look for Imam Hossein? Imam Naqi was an important Imam. If you ask ten Shia Muslims about Imam Naqi, eight of them cannot be certain whether Naqi was the ninth or tenth Imam. This Imam has been abandoned. I think they should be thankful to me for reminding them of this. I did not aim for Imam Naqi himself. I wanted to say other things, which I did. I did what I wanted to do.
-To find out more about Shahin Najafi and more analysis about his song read the Daily Beast's "Iranian Rapper Shahin Najafi Faces Death Threats for Song Deemed Insult".
May 18, 2012 1 Comment
Huffington Post, Posted May 20, 2011- Many may be critical of America's human rights policies, particularly its double standards when it comes to the records of its allies in the Middle East and beyond, not to mention in Bahrain. But human rights activists and organizations have welcomed the Obama administration's presence at the Human Rights Council in Geneva since 2009. Like it or not, "without a strong U.S. counterweight, non-democratic states such as Cuba, Algeria, China and Pakistan joined forces to blunt the Council's work and bully other states."
The UN will appoint a special rapporteur for Iran in the weeks to come.
In Geneva, Eileen Chamberlain Donahoe, the U.S. representative to the Council is a superstar. She is the face of U.S. human rights in town, a master of building coalitions and cooperation with different partners to make things happen. In an interview with me in Geneva, she responded to questions about the urgency and significance of establishing a monitoring mechanism for Iran, the role of politics in U.S. human rights policy, the perception of U.S. hypocrisy towards its friends and foes, her opinion about the Iranian officials' allegations on the politicization of UN human rights mechanisms, and finally, why the U.S. is going aggressively after Iran's human rights record. Excerpts from the interview follow: Read more
May 20, 2011 Leave a Comment
Huffington Post- What has been the root of the U.S'. inability to develop a sustainable policy or strategy on Iran for the last 30 years? What was not learnt from the Shah's fall in 1979 and the nature of the revolutionaries who hijacked a pro-democracy freedom movement? And what are the parallels between the Shah's regime and the current Islamic government in Tehran?
These are the types of questions that have been raised in my extensive interview with Dr. Abbas Milani, author of the recent book, The Shah, and the Director of Iranian Studies at Stanford University in California.
While the Iranian government continues to curb social and political freedom in Iran, particularly after the post-presidential unrests which resulted in killing of dozens and arresting thousands of people, the author of a recent book, The Shah, provides a comprehensive image of parallels that contributed to the fall of the Shah and is now being perpetuated by the Islamists in Tehran.
January 24, 2011 Leave a Comment
SAN FRANCISCO, California, Nov 10, 2010 (IPS) - "The U.S. intentionally confuses al Qaeda with other groups around the world fighting for their independence or liberation, but it's [just] a convenient way to whip up support and get people very afraid," says author and journalist and Reese Erlich.
"There is no war on terrorism," he tells IPS.
Based on original research and firsthand interviews, Erlich's new book "Conversations with Terrorists" draws fresh portraits of six controversial leaders: Syrian President Bashar Al-Assad, Hamas top leader Khaled Meshal, Israeli politician Geula Cohen, Iranian Revolutionary Guard founder Mohsen Sazargara, Hezbollah spiritual advisor Grand Ayatollah Mohammed Fadlallah, and former Afghan Radio and Television Ministry head Malamo Nazamy. Read more
November 10, 2010 72 Comments
FOREIGN POLICY, Sep 8, 2010- Faezeh Hashemi Rafsanjani, daughter of Iran's powerful Ayatollah Akbar Hashemi Rafsanjani and a prominent advocate of the Green Movement, speaks to Foreign Policy about the future of Iran's opposition and her (low) opinion of President Mahmoud Ahmadinejad.
Faezeh Hashemi Rafsanjani, 48, was one of Iran's leading members of parliament from 1992 to 1996 and the founder and editor of Zan, Iran's first-ever daily women's newspaper. She is also the daughter of Ayatollah Akbar Hashemi Rafsanjani, one of the country's most influential men and strongest opponents of President Mahmoud Ahmadinejad. During the widespread protests that followed Iran's contested presidential election last year, Hashemi was a vocal supporter of the Green Movement and was briefly imprisoned by the Iranian government for her activism. She spoke to Omid Memarian about how Iran has changed since that election and the future of the Green Movement. Read more
September 8, 2010 Leave a Comment
SAN FRANCISCO, California, Aug 24, 2010 (IPS) - Responding to pro-government critics, Iran's defiant opposition leader Mir Hossein Mousavi has said several times in recent months that he would reveal "untold secrets" from his tenure.
Mousavi served as prime minister of Iran from 1981 to 1989, until constitutional changes abolished the post. He was a leading opposition candidate in Iran's contested presidential elections last year.
Abolhassan Banisadr, Iran's first president after the Islamic Revolution, who now lives in France, told IPS that he believes Mousavi's life is danger. "Many people who have had access to the regime's secrets or who have tried to reveal them have been murdered," he said.
Last month, Banisadr published what he says is Mousavi's 1988 letter of resignation on his website, Enghelab-e Eslami. The letter was addressed to then-President Seyed Ali Khamenei, now Iran's Supreme Leader. Neither Mousavi nor any of the Iranian government authorities, including the Office of the Supreme Leader, has reacted to the letter's contents. Read more
August 24, 2010 14 Comments
BERKELEY, California, Dec 31 (IPS) - The Iranian government has intensified its pressure on political and human rights activists since the harsh crackdown on protesters on the holy day of Ashura, arresting major political figures and even their family members, including Noushin Ebadi, the sister of Noble Peace Laureate Shirin Ebadi.
Even the Shah, before the 1979 Revolution, was hesitant to use violence against demonstrators during the religious ceremonies on Ashura, the day that the grandson of the seventh-century Prophet Muhammad and the third Imam of Shiite Muslims was killed. Read more
December 29, 2009 Leave a Comment
insideIran.org- Omid Memarian, an Iranian journalist, has helped Human Rights Watch document the post-election violence in Iran. In an interview with insideIRAN.org. Memarian shared his thoughts on the current situation of human rights in Iran and the international community's responsibility to shed light on the matter.
Q: Iran's lack of cooperation in the nuclear negotiations, coupled with the increasing human rights violations in Iran, are placing more pressure on the Obama administration to speak out against the torture and repression in Iran. What is your view? Do you believe that if President Obama publicly criticizes Iran this would provide the leadership with evidence that the United States is interfering in Iran's internal affairs?
A: I agree that the Obama administration is in a tricky position. On one side, Iran's nuclear program is a matter of international security and aims to prevent Iran from acquiring nuclear weapons or moving toward any program that is easily convertible to a nuclear weapons program. This seems urgent in order to avert an arms race in the Middle East. Read more
December 2, 2009 1 Comment
BERKELEY, California, Jun 4 (IPS) - As Iran's conservative president Mahmoud Ahmadinejad fights for his political future against two reformist challengers in the June elections, Arash Sobhani, a lead figure in the country's underground music scene, says it's a very tough time to be an artist in Iran.
"At the beginning of his [Ahmadinejad's] first term [in 2005] there were still a few notable musicians who thought they should stay and try to work inside Iran and try to make things better little by little, like they had done for the past 26 years, but Ahmadinejad proved them wrong," Sobhani told IPS.
Sobhani is the lead singer and songwriter of Kiosk, a band that is widely popular among Iranians inside and outside of the country. With its Mark Knopfler musical style and politically sharp and ironic lyrics, Kiosk is considered one of the most influential underground rock bands to emerge since the 1979 Iranian Revolution. Read more
June 6, 2009 3 Comments
Huffington Post- "IREX never imagined that anyone could construe our program in Iran to be inconsistent with any interest of the Iranian government," said Paige Alexander Vice President of the U.S.-based non-profit regarding the arrest and imprisonment of the organization's employee, Silva Haratonian, last year in Iran.
Silva Harotonian, an Iranian citizen of Armenian descent, held a modest position with the International Research & Exchanges Board (IREX), which focuses on international education, academic research, professional training and technical assistance.
Her work and life were interrupted on June 26, 2008 when she was detained by Iranian authorities and charged with participating in an effort to overthrow the Iranian government through a "velvet revolution." On January 19, 2009, she was sentenced to three years in jail. Read more
May 31, 2009 3 Comments
BERKELEY, California, Apr 24 (IPS) - In an Apr. 6 address to the Turkish Parliament on the final day of his European trip, President Barack Obama praised Muslim Americans for "enriching the United States".
However, according to Dr. Munir Jiwa, director of the Centre for Islamic Studies at the Graduate Theological Union of the University of California, Berkeley, "virulent Islamophobia" persists across the country.
Jiwa, who is also a professor of Islamic Studies, told IPS that among those who did not vote for Obama last November, there are even more anti-Muslims. "They think we have voted in someone who is, as they say, a 'closet Muslim', and they think that sometime, he will come out of the closet," he said. Read more
April 24, 2009 1 Comment
HuffPost-After the announcement of her eight-year prison sentence, American-Iranian journalist Roxana Saberi's attorney, Abdolsamad Khorramshahi, told in a telephone interview from Tehran that Shirin Ebadi, the 2003 Nobel Laureate will join the legal team of the case. Khorramshahi also said that he will appeal the sentence within the next 20 days. Roxana Saberi's attorney believes that in order to prove such a serious charge, the case must clearly show intent in the crime, and his client's case clearly lacks evidence of intent.
At what stage is your client's case?
Both Ms. Saberi and myself have objected to the verdict. We have the right to request an appeal. We have 20 days in which to offer our reasoning for refuting the charges made against Ms. Saberi. After we have submitted our appeal, the case can be reviewed by a higher court. We are waiting to see what happens. Read more
April 22, 2009 1 Comment
BERKELEY, California, Mar 17 (IPS) - Dr. Kazem Jalali, an influential conservative member of Iran's parliament, the Majlis, and rapporteur of the National Security and Foreign Policy Commission, sees possibilities for a thaw with Washington, but believes that many Arab states in the Gulf "see their interests in keeping the current state of continual conflict among the west, the U.S., and the Islamic Republic of Iran."
In recent years, Tehran has experienced growing tensions with its Arab neighbours, particularly over the development of its nuclear programme. The latest diplomatic crisis came after former Majlis speaker Ali Akbar Nateq Nori referred in a speech to Bahrain as a former province of Iran. His remarks caused a firestorm of angry protests from numerous Arab nations, particularly Saudi Arabia and Egypt, and prompted Morocco to sever relations with Iran - although Bahrain itself has remained friendly. Read more
March 17, 2009 1 Comment
BERKELEY, California, Jan 23 (IPS) - "Obama is going to have continuous pressure from Israel to attack Iran and, in some way, their nuclear facilities, and this is going to be tied up with Gaza and Lebanon," according to Robert Baer, a former top Central Intelligence Agency operative and the author of "The Devil We Know: Dealing with the New Iranian Superpower."
In an interview with IPS, Baer discussed the regional implications of the Gaza conflict and his take on Iran's Revolutionary Guard, Hamas and Hezbollah, three major groups in the Middle East which have been called terrorist organisations. Read more
January 23, 2009 2 Comments
(My interview with William Beeman)-Barack Obama's views on the Middle East are not very different from those of the Bush administration, according to Professor William Beeman, the Chair of Anthropology and specialist in Middle East Studies at the University of Minnesota, in an interview with Rooz.
However, Barack Obama's promise of change during the presidential campaign has led many to expect his Middle East foreign policy approach to differ from that of President Bush. Read more
January 22, 2009 1 Comment